Designed for the general public, this course teaches life-saving techniques and provides practical training on first aid procedures.
1. Definition of first aid and basic first aid skills
2. Knowing the extent of the possibility of intervention (or not) in various emergency situations and incidents
3. The necessary action in emergency situations and accidents of all kinds, such as: stopping the heart and breathing, suffocation or choking, disturbance or change in the degree of consciousness
4. How to provide first aid for burns and first aid for children
5. Dealing with cases of fractures, wounds, bleeding, snake bites, insects, animal bites, and other injuries
6. Preparedness and readiness to face emergencies by having first aid skills
7. Non-intervention in emergency cases in the absence of information or capacity
8. Realizing that acquiring the skills mentioned in the course can help the injured to prevent complications that pose a threat to his life, and not play the role of specialists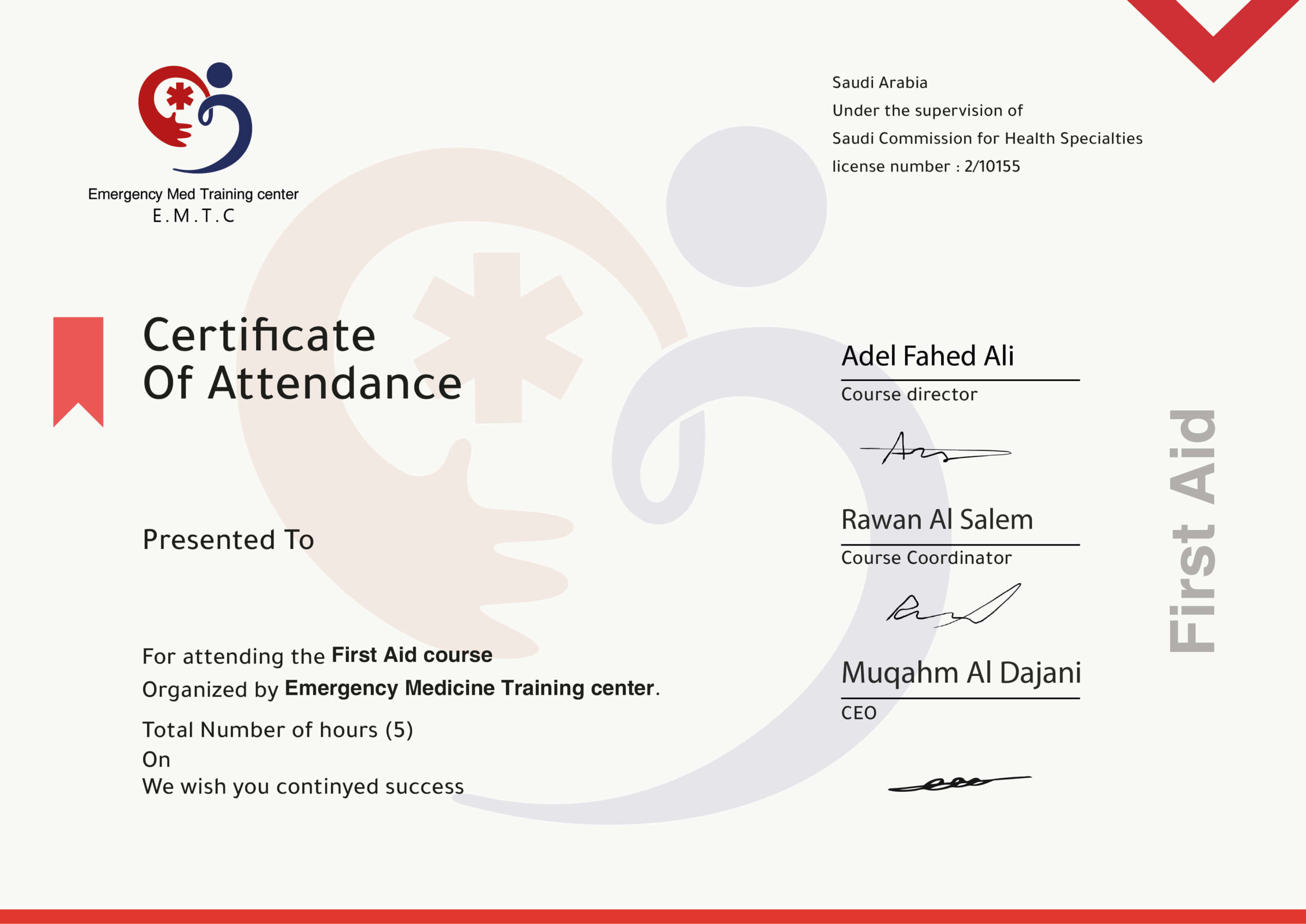 Create an Account: Begin the registration process by creating a personal account on the EMTC platform.

Enter your Information: Provide the required information, including name (in Arabic and English), mobile number, and email address.

Course Selection: Add the desired training course to your cart. Click on the "Register" button and choose the preferred date and time for attending the course.

Acceptance of Terms and Conditions: Agree to the terms and conditions of the platform before proceeding.

Payment: To complete the registration and gain access to the program content, submit payment via the available portals. An electronic invoice will be provided upon successful payment.

Confirmation of Registration: Trainees will receive confirmation of their registration request via text message or email.

Arrival Time: It is recommended to arrive at the venue half an hour before the scheduled session starts.
First Aid
Your review
* Review is required
Email
* Email is required
Q & A
There are no questions yet