Emergency medical professionals from all over the world took part in the Arizona Emergency Medicine Research Center's latest CPR University, a high-intensity training where participants learned the latest techniques in saving lives.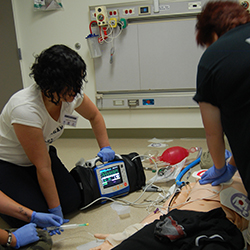 CPR University
The two-day workshop was the second offered this year by the Center and was led by Bentley Bobrow, MD, director of CPR University and professor of emergency medicine at the University of Arizona College of Medicine – Phoenix, and Bruce Barnhart, MSN, RN, CEP, program coordinator of CPR University and senior manager of The College of Medicine – Phoenix Emergency Medicine Research Center. The course is designed to teach emergency medical professionals the latest techniques to improve the quality of CPR and increase survival rates.
University of Arizona research shows that the use of chest compression-only CPR triples survival rates.
"People come from all over the world and represent different health care systems, but they all have something in common: They are trying to dramatically improve outcomes in cardiac arrest," Dr. Bobrow said. "We are all here learning how to translate the newest life-saving resuscitation science into everyday patient care to help the most people."
Dr. Bobrow said it's important that health care professionals continuously measure their CPR performance because, "we've learned that the quality of CPR strongly influences survival rates and neurological outcomes after cardiac arrests."
Barnhart and Dr. Bobrow developed the high-intensity course along with several Arizona EMS rescuers so that emergency medical professionals could take not only the concepts, but the hands-on skills back to their agencies to train others.
"We find there are still a lot of problems in giving CPR," Barnhart said. "We need to get better. It's deceptively simple (giving CPR), yet it's a very complex psychomotor skill."
The most recent CPR University attracted 22 students, including some from Chile, Argentina, Spain, Kuwait, Panama, Puerto Rico, Italy and Israel.
Raed Hashem, MD, who is on staff at Amiri Hospital, traveled from Kuwait.
"It's a long trip from Kuwait, but it's worth every mile," Dr. Hashem said. "It's a wonderful course, and it has definitely added to my collective experience in the art of resuscitation."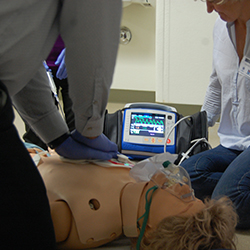 CPR University
During the session completed in September, 10 instructors trained 22 students in small groups. Pete Walka, CEP, a paramedic at Guardian Medical Transport in Flagstaff, was one of the instructors.
"This training is so valuable," Walka said. "We have proven in Arizona that we can save many more lives with these skills and with a well-choreographed team that trains and performs at a very high level. CPRU is spreading that message around the world."
Previous participants in the course have seen improvements in the quality of CPR performed. For example, David Wu, MD, implemented the training within his community in China and was filmed by a television news crew while he was giving CPR to a passerby who had collapsed. The person survived the cardiac arrest and was interviewed in his hospital bed after the incident.
"We are already getting feedback from some of our previous alums who said they are improving the survival rate and saving lives within their community," said Samuel Keim, MD, MS, chairman of the Department of Emergency Medicine, UA College of Medicine – Tucson, and director of the Arizona Emergency Medicine Research Center.